OSLO - AALESUND, NORWAY
KON TIKI
Late Spring 1958, Joanie is once again pregnant...and, we decide to take a four-week trip to Aalesund, Norway, the home of Joanie's father, Ole.
At the age of 12, Joanie already traveled with Ole and Jeanne to visit relatives in Oslo, Stabekk, and Aalesund. She has always spoken of her first cousin, Kari Mette, who lives with her parents in Stabekk. Before we leave Naples, we agree that if Kari Mette has time and is willing, we will bring her back with us to Naples for a month or so.
It is about 1,700 miles to Oslo. We travel across the Brenner Pass into Austria by way of Innsbruck...thence to Hamburg, Germany, and Denmark...taking the ferry boat across the North Sea to Narvik, Norway...thence East to Stabekk (Oslo), Norway.
The Brenner Pass cuts through the Dolomite Mountains - continuation of the ALPS -in Northern Italy, exiting into Austria at the city of Innsbruck, where we take a hotel room for the night.
https://www.google.com/search?q=innsbruck,+austria&hl=en&client=firefox-a&hs=rqa&tbo=u&rls=org.mozilla:en-US:official&channel=np&tbm=isch&source=univ&sa=X&ei=jXDiUP-SHKnHigLAjoDwAg&ved=0CEkQsAQ&biw=1024&bih=437
In the morning, we get on the Autobahn...the super highways of Germany constructed during the 1920s and 1930s...taking it all the way to the border of Denmark.
http://en.wikipedia.org/wiki/German_autobahns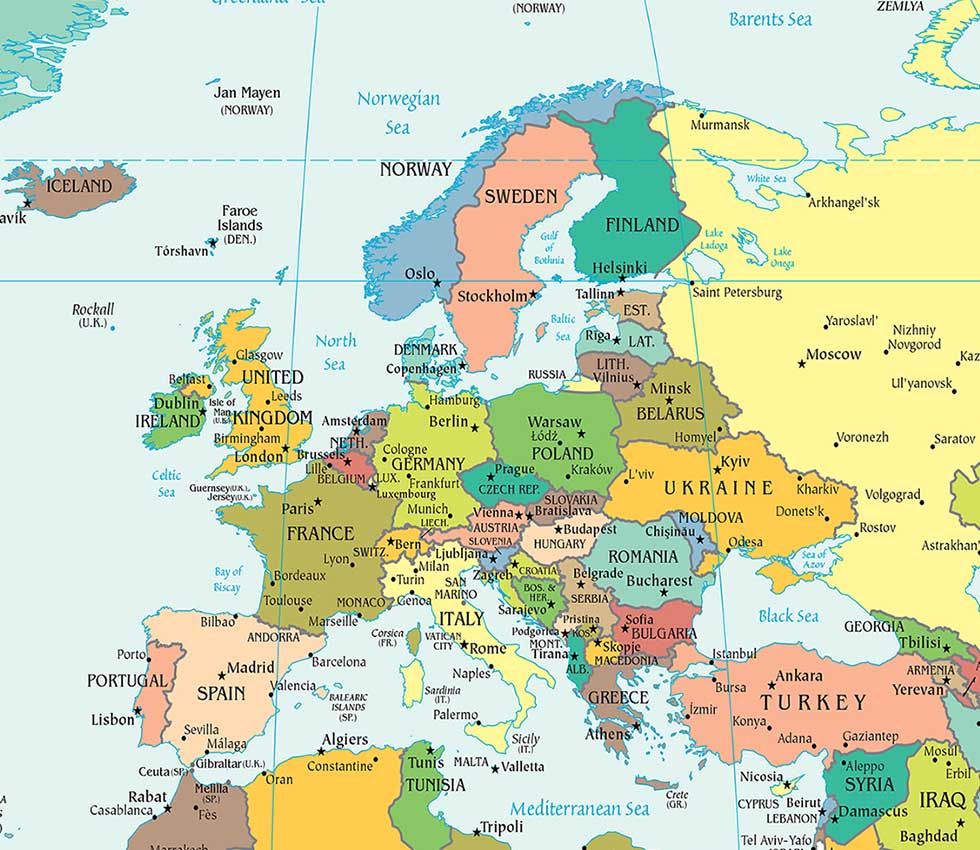 Our drive across Germany on the Autobahn is much faster than we anticipate. We arrive in northern Denmark in late afternoon...just as the ferry boat is loading for Narvik, Norway...so, we decide to drive on board, cross the North Sea overnight, arriving in Narvik in the morning.
A HORRIBLE MISTAKE !!!
Kari Mette's parents are not expecting us for another day. Not even thinking of the problems our early arrival will cause, we pull into the driveway on Asvein Street, Stabekk, Norway only to find a very angry mother...totally unprepared for our early arrival ... the least you could do was telephone us before leaving Denmark !!!!!
Our reception is very cordial, but Joanie and I are totally wrong in our desire to arrive early.
http://mapcarta.com/18620142
Stabekk is about 20 miles West of Oslo on the above map.
Kari Mette, we find, is in the midst of a beauty pageant for Miss Oslo...so, she cannot leave.
* * * * * * * * * *
Historic Note: Kari Mette is a crew member on board Air Force 1 in Dallas on November 23, 1963...the day of the assassination of President Kennedy.
* * * * * * * * * *
What Joanie and I do discover is a real shocker...Kari Mette has an older sister, Sylvia. We meet Sylvia the second morning after our arrival. She is standing behind the service counter of the Bakery Shop of her parents...where she works. We also find that at 8 years old, Sylvia and her friend, while sledding down a hill in Stabekk, crash into and under an automobile...Sylvie sustaining severe head injuries.
The next 14 years - Sylvie, now 22 years old - (as I have always called her) has been deemed to have sustained brain damage resulting in her being with-held from public schools and activities...essentially, Sylvie has been considered an invalid not capable of functioning in public.
Joanie, carrying another baby during our trip, is taking it easy...Joanie is not the adventurous type in any event...so, Kari Mette and Sylvie take me in hand; we go swimming in the Bay of Oslo - surprisingly warm for so far north...as the result of the Gulf Stream in the Atlantic crashing against the coast of Norway..., where both girls far out swim me...Sylvie waits for me to be sure I don't drown. We also visit the city of Oslo and the Museum of Kon Tiki...Thor Hyerdahl is a cousin of all three girls.
http://en.wikipedia.org/wiki/Thor_Heyerdahl
https://www.google.com/search?q=KON+TIKI&hl=en&client=firefox-a&hs=r2b&tbo=u&rls=org.mozilla:en-US:official&channel=np&tbm=isch&source=univ&sa=X&ei=eYLiUNiREcPQiwKUwIDgDw&ved=0CGAQsAQ&biw=1024&bih=437
A nephew of Thor Hyerdahl lives in Seattle, working for The Boeing Company.
Joanie and I stay in Stabekk for 5 days. On the fourth day, we agree that Sylvie can travel back to Naples with us. First, however, we will drive north to Aalesund, Norway, the birthplace of Ole, Joanie's dad...Sylvie will also travel to Aalesund with us.
Arriving in Aalesund - about 150 miles Northwest of Oslo, Joanie is not feeling well. She remains in her father's home while Sylvie guides me around town...in the evening, we decide to climb the local mountain Sugartoppen.
Sugartoppen, about 600 feet high, has a ramp-like gradual slope on the Southern side. The west, north, and east sides are vertical stone cliffs. We have no climbing gear and Sylvie is wearing a skirt and sweater. Nevertheless, we climb the West side...straight up. I take off my belt, fasten it around Sylvie's wrist, and pull her up numerous outcrops...more often, pushing her bottom ahead and above me...Norwegian girls are not like Danish girls...Norwegian girls wear panties.
We arrive on top at midnight. The Sun is still shining...the land of the midnight sun !!
We return home to bitter condemnation:...of all the stupid stunts...etc...
Sylvie and I have forged a rather tight bond.
Returning to Stabekk, Sylvie informs her parents that she is going to Naples . All He _ _ breaks out...Sylvia is brain damaged...she has no understanding of life outside our home...she can in no way make such a trip...
Kari Mette sides with her sister. In the morning, as Joanie and I get in the car, Sylvie puts her suitcase in the trunk and with a short goodbye, leaves home.
Joanie arrives very uncomfortable. The trip has not been fun for her. She has no interest or strength to see Sylvie around Naples.
Sylvie and I become even closer...embarking on a number of adventures...